When it comes to getting fit, managing your body fat is very essential and as the saying goes, "What gets measured, gets managed." So, if you want to manage to burn that fat covering your six pack, measuring it would be the best option.
And with this sometimes, a scale just won't cut it—mostly because it doesn't differentiate between muscle and fat. In fact, I've got a new saying for you: "If you're on a scale, you're probably not getting the right measurements."
---
What's A Dexa Scan & How Does It Work?
A DEXA scan is like an x-ray scan of your body which accurately measures how much of your body weight is made up of fat, muscle, and bone. Not only does it measure those, it also breaks this data down by each body part so you can get into the real details of finding what to work on, when getting fit and track your progress.
It works by passing two safe and very low dose x-ray beams at differing energy levels through the tissues of the body. The amount of radiation that passes through the tissue is measured by a detector. The computer then determines how much of your tissue is muscle fat water or bone and where it's all stored.

The total scan takes about 7 minutes, where you'll be lying flat on the scanning bed. The DEXA is the 'gold standard' body composition testing. It has the greatest precision and shorter scan times. During this process, you are required to lay completely still so that your whole body gets scanned properly. Also, before a DEXA scan, other requirements include not exercising, drinking or eating only up until 4 hours before the test.


---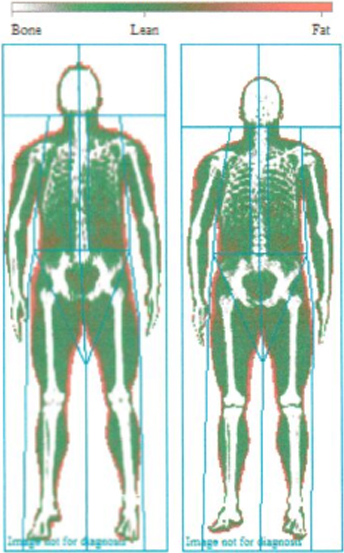 What Does DEXA Scan Measure?  & What type of results should I expect?
Total body bone mineral density
Total body muscle mass
Total body fat mass
Total body bone mass
Total body fat percentage
Muscle and fat mass in the trunk
Muscle and fat mass in your right and left arm
Muscle and fat mass in your right and left leg
Central abdominal fat measurement
The DEXA Scan Results is a comprehensive report with exact measurement of your lean mass, body mass, and fat tissue percentages. It even measures your lean mass balance – which is great to see if your training, past injuries, or even a health condition could be leading to mass differences thats are out of proportion.
WHY GET A DEXA SCAN?
If there is one thing I have learned over the last few MONTHS of trying to lose weight, it's that using the scale is NOT really the best way to measure health. The scale only tells you one thing – how much you weigh– but there is so much more to optimum health than a number on a scale! 

With the DEXA Scan, You can measure and monitor your muscle mass to make sure you are staying right on track with losing body fat while maintaining muscle. And as an added bonus, you can also see if your bones are nice and strong! 

All of these factors are important to consider when figuring out the best nutrition and strength training program for you. Whether you're trying to gain more control over your health or have just become curious with where you stand — the DEXA scan is one of the most accurate readings of body fat percentage out there today.

Find the nearest DEXA scanner to you

DEXA scan locations are available in the US and UK mainly, but can be offered in your location too by using the locator on their website.
---
Have you tried a DEXA scan before? What are your thoughts?
This post was sponsored in collaboration with DEXA scan. However, all opinions stated are mine and this post is purely for information purposes. Please contact your healthcare provider if you have serious questions or visit the FAQ page of DEXA scan.
Thank you for always supporting The Ash Tree Journal!